1. Saddleback Leather ID Wallet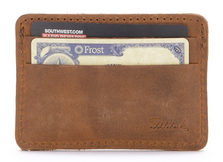 The Saddleback Leather ID Wallet is an original leather made minimalist wallet that comes from genuine inspiration gathered from several continents. The wallet's maker stumbled into minimalist wallet design while backpacking through several countries and experiencing authentic cultures with expert leather craftsmen to guide his way.
The wallet features two-tier slot style storage along with an interior storage compartment with a window ID holder. It is made with high-quality genuine leather with double stitching that is durable and rugged enough to withstand daily use. The slim design has a surprising amount of capacity holding up to 12 credit or debit cards, as well as cash and business cards.
The wallet fits nicely in a shirt pocket, inside jacket pocket or front pants pocket, with a comfortable give for all day use. The front ID window can also be used to hold a frequently held card that may be scanned without even removing it for added convenience.
Two tier design holds up to 12 cards
ID window storage slot
Available in dark or light brown leather
Holds additional cash and business cards
Easy access to frequently used card
Reinforced stitching
100% genuine leather
Comfortably fits in front pocket
Size: 4″ x 3″
---
2. Bellroy Men's Leather Slim Sleeve Wallet
The Bellroy Slim Sleeve Wallet gives you a minimal wallet with the capacity of a full size wallet. Get all the advantages of function and storage without the bulkiness and discomfort of carrying a large size wallet.
This sleeve style wallet carries cash, business cards and up to 11 cards and still offers a slim style that is comfortable to carry on any pocket. The wallet is made with premium quality leather and comes backed by an amazing three-year warranty, which is almost unheard of in the minimalist wallet market.
It has three easy access slots for storage and features pull-tab functionality for ease of use and ejecting less frequently used cards. The wallet is available is eight distinct colors and is one of several leather accessories produced by Bellroy, a leader in the accessories market.
You will not be disappointed with this Bellroy minimal wallet if you are looking for a classic design, amazing storage capacity and smart functionality. The simple yet upscale look sets it apart as a versatile everyday wallet.
Storage capacity for up to 11 cards
2 slots for quick access
Fits credit cards, cash, and business cards
Available in 3 distinct colors
Premium grade leather
Durable and refined leather
3 year warranty
Size: 8cm x 9.5cm
---
3. Distil Union Wally Bifold Slim Wallet
This minimal wallet provides excellent capacity and daily functionality while still holding true to minimalist principles. The 100% genuine leather is durable yet offers comfort and ease of use.
The bifold design was made to be as slim as possible and utilize a pull-tab function for easy card and cash access, while still maintaining a secure hold on your valuables. This wallet is perfect for carrying in your front pants pocket or even your shirt pocket and offers organization and storage for up to twelve cards and cash.
Each slot of the wallet has a colored tab that can be used to assist the r
emoval of a credit card or business card with the need to fully open the wallet. By inserting the card back into the wallet the tab is "reset" for use again.
The wallet comes in two colors, Ninja Black and a classic
Cowboy Brown, with dimensions of 2.8 inches tall by 4.2 inches wide and only 0.3 inches thin.
Organization for up to 12 cards
Secure cash clip on the interior
Access tabs assist ejection of cards
Size: 2.8″ x 4.2″
Slim and sleek design for maximum comfort
Matches other Distil Union product designs
Averages 4.5 out of 5 stars on Amazon

---
4. AlpineSwiss Leather Card Case Wallet
This minimalist wallet claims to be the slimmest of the slim in the minimal wallet market, and it just might be. But, you don't have to sacrifice on function and storage space with the AlpineSwiss Card Case Wallet, as it has two card slots on each side and middle slot for additional card and/or cash storage.
Two slots on one side and a middle opening offer plenty of room and options for securing your valuables. The wallet is less than an eighth of an inch so you won't be able to store 10 or 12 cards like some models in the minimal wallet market. However, you will still find storage for six to eight cards, along with additional room for cash and business cards.
The wallet is excellent for a night out on the town or as an everyday case, which can match nicely with upscale clothing or a more casual look equally as good. AlpineSwiss is a well-known name in the wallet and minimal wallet market and have been operating in the retail space for over 20 years. You won't regret taking advantage of this excellent AlpineSwiss offering. The AlpineSwiss Card Case is available in three classic colors black, brown and gray.
Three slots for card and cash storage
Enough storage for 6 to 8 cards and cash and/or business cards
Available in classic color schemes, black, brown and gray
Genuine leather
AlpineSwiss name and quality
Premium leather craftsmanship
Over 800 Amazon reviews that average 4.5 out of 5 stars
Size: 3-7/8″x 2-7/8″
---
5. Johnston & Murphy Weekender Wallet
Available in eight different colors, this is Johnston & Murphy minimal wallet is designed as a slim alternative to traditional bulky wallets. It is a perfect companion if you have an active lifestyle that requires style and versatility, but you still need a functional wallet that gives you ample storage without being uncomfortable.
The Weekender Case has slot style storage, which allows for storage of multiple cards in each as well as an ID window with a thumb slide. The ID window may be used for a driver's license, ID card or a card that is used frequently. The wallet is made with high-grade premium leather and features durable stitching and lining that brings a finished look.
The Johnston & Murphy name has been trusted in the shoe and accessory industry for over 150 years. All of their products come with a ninety-day return/refund or exchange policy for any product that is unworn and has a defect in craftsmanship. You will enjoy using this wallet as an everyday companion or just as a weekend wallet. The classic style and signature Johnston & Murphy quality are obvious.
ID window can be used an ID or for a frequently used card
Double slot style allows for storage of multiple cards and cash
Interior pocket keeps receipts, business cards and cash secure
90 day refund and return policy
Johnston & Murphy name and quality
Slim, sleek and classic style
Available in 8 colors
Size: 4-1/8″ x 3″